Selling Exotic Animals for Three Decades
Red kangaroos, red deer, miniature donkeys,
llamas, emus & more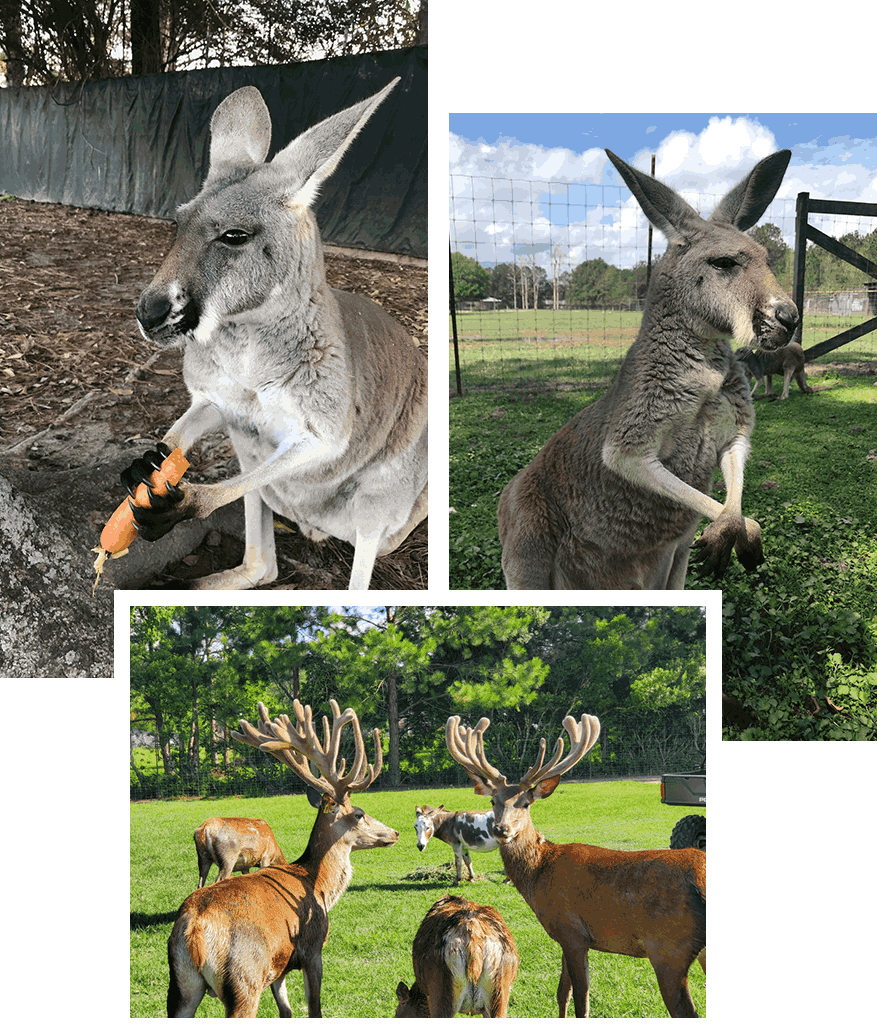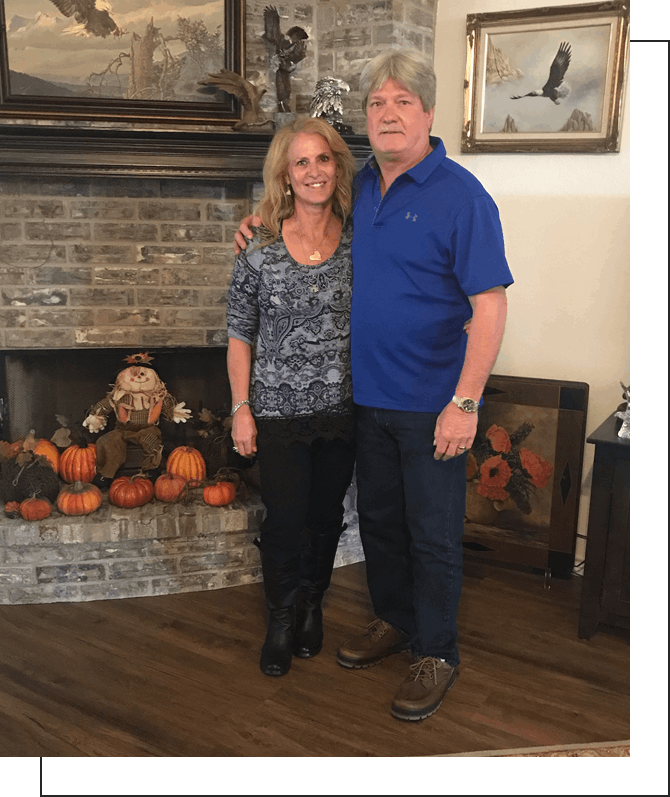 Deer Park Exotics is a USDA licensed facility located in Lumberton, Texas. Deer Park Exotics has been in the business of selling exotic animals for more than 28 years. Owned-and-operated by Perry & Annette Viator, Deer Park Exotics delivers quality stock at competitive prices.
"Here at Deer Park Exotics, quality is our number one concern, so ask us about our guarantee."
– Perry Viator
We offer bottle baby kangaroos. We breed and raise our kangaroos at our own facility to guarantee quality stock.
We take pride in offering full after-sale support.
Deer Park Exotic is a USDA license facility and has raised red kangaroo, red deer, miniature donkeys, llamas, emus, and more for the past twenty-eight years.
At our facility, we have a mob of fifteen breeder Kangaroos with two breeder males and have sold hundreds of bottle baby's across the US. Red deer bulls are sold during June and July each year, and females are sold year-round.
"Perry is a true professional and mentor. He is always willing to teach what he knows and to learn what he doesn't. His concern for his animals is always foremost in his mind, and his enthusiasm for those creatures under his care is contagious......or else I wouldn't own three of his kangaroos myself. Once you learn about and have the chance to own one of these extraordinary creatures, your life will never be the same also."
- Todd M Westin, DVM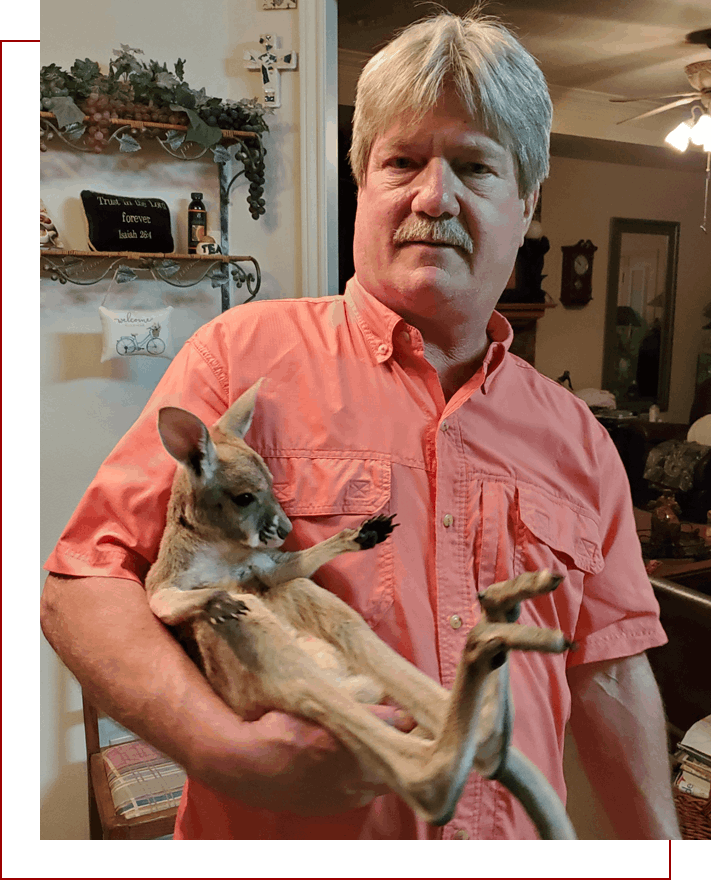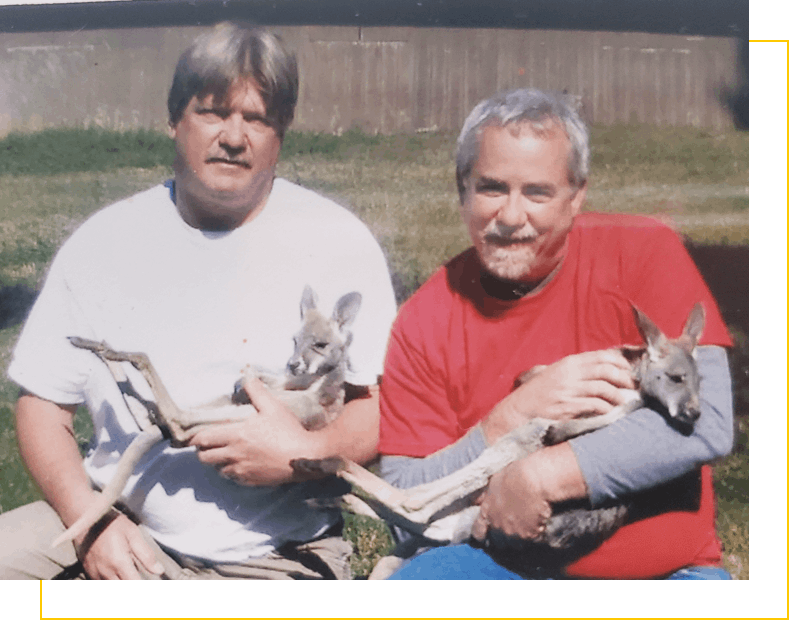 Todd M Westin, BS, DVM, was born in 1964 and grew up in a small town called Elk Point, SD. He was always interested in raising and caring for exotic animals and wildlife. His earliest exposure to animal care came at the age of 6 years when he started bringing injured wildlife to the local veterinarian, Dr. Syndney Milburn, who very graciously took care of these animals and nurtured a future veterinarian, unbeknownst to Todd. 
After spending time in the United States Air Force, Government Service, and various jobs, including building bridges, surveying, and work as an apprentice electrician, he decided to attend college to fulfill a longstanding dream. Graduating from the University of South Dakota in 1998 with a Bachelor of Science degree and then Iowa State University College of Veterinary Medicine in 2002. Dr. Westin moved to Kountze, TX after graduation and soon after met Perry Viator and became the primary veterinarian for Deer Park Exotics.
Here are a few images of our red deer and red kangaroos:
We look forward to doing business with you. If you have any questions or comments, please contact us by using the form and we will get back to you soon.
For an immediate response, please call Perry at (409) 656-9705.